Who's Who at Altrincham FC
Contact: email
Chairman, Board, Directors
Chairman - Grahame Rowley
Directors - Derek Wilshaw, Neil Faulkner, Bill Waterson, Mike Adams
Associate Directors - Rob Esteva
Above: Grahame Rowley,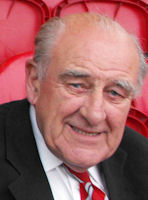 Above: Derek Wilshaw
Above: Neil Faulkner
Recent Board History
Grahame Rowley became Chairman on 13 September 2010 after Geoff Goodwin resigned on that date. Grahame had previously been vice-chairman, having joined the Board in 2002. Grahame is a local man and  a longstanding supporter of the club who, for many years, has also co-edited the matchday programme, with his brother, Terry.
From 14 September 2010, the Board comprised: Grahame Rowley (chairman), Andrew Shaw (vice-chairman), Derek Wilshaw and Paul Daine.
Andrew Shaw resigned as vice-chairman on 1 February 2017 and, five days later, it was announced that Bill Waterson had become a significant shareholder and had joined the Board. In April 2016 Bill, a lifelong supporter, had made a significant donation to the Football Club.
On 26 February 2017 it was announced that Paul Daine and Nigel Collins had resigned and that Mike Adams, who has a wealth of commercial experience, had been appointed as a  Director, with particular responsibility for the Club's financial accounting. In July 2017, Rob Esteva was appointed Associate Director.
Previous recent history of the Altrincham FC Board...
The Club has been through various changes in the past decade.
In late July, 2002, Geoff Goodwin, owner of the Go Goodwins coach company, became Chairman. In the previous two years Mark Harris had become the Chairman in early 2001. However, Mark, who was formerly the Deputy Chairman, himself resigned w.e.f. the end of the 2001-02 season.
New Directors were appointed from February 2001 after the Club had been saved from a winding-up order threatened by an ex-Director. The remaining Board members resigned in May 2002, and the major shareholders, led by Gerry Berman, held an EGM on 17 June 2002. From this, a new Board emerged comprising Grahame Rowley and Geoff Goodwin both nominated by Graham Heathcote, and Andrew Shaw nominated by Len Rosenfield. They brought much needed stability to the clubs operations, with a small operating profit being made in 2002-03.
They battled hard to pay off the club's debts, which they inherited, and the local council's sale of the car park at Moss Lane brought a much-needed cash injection in 2007. In summer 2006, Grahame Rowley was named as Vice-Chairman and Derek Wilshaw joined Carole Hassan and Barry Pond on an expanded Board. Derek also assumed the role of Club Secretary from Graham Heathcote.
A significant step in the club's remergence at national level came when Andrew Shaw was elected to the Football Conference's national board in October 2006. At the end of May 2007, former Football League chief executive David Burns joined the Board. Sadly, David died in January 2009. Barry Pond resigned from the board at the end of 2008-09 season but became an Associate Director in July 2013, a role to which dormer Kidderminster Harriers' director Nigel Collins was also added.
In June 2008, Carole Hassan resigned due to her other commitments, her place on the Board being taken by Paul Daine, a local businessman who owns the Premium Collections company.
Under the guidance of Geoff Goodwin the club moved from the brink of insolvency to a position of stability through a policy of financial prudence. The club refused to follow the easy path of administration, by which the club's creditors would have been left out of pocket, and instead worked hard to return to solvency.
Under his chairmanship the club consistently reported a small profit each year. Geoff resigned as Chairman in September 2010, with Grahame Rowley assuming that role. Andrew Shaw was named as vice-chairman in June 2011.
Local company J Davidson became the major sponsors from 2011/12. The club has since continued to live within its means and took a big step forward with the building of a large Community Sports Hall within  the stadium, which opened at the end of 2014 and has quickly become a community hub for the Altrincham area.
---
Presidents/ Vice-Presidents
President - Noel White B.E.M.
Vice Presidents - D. Johnson, B. Green, P. Daine, J. Forster, D. Whipp, D. Whipp, R. Macauley, E. Robinson, J.Evans, D. Ordman, G .Mackridge, S. Ritchie, N. Faulkner, B.Smith, B.Peters, J. Wilson
Life Vice Presidents - D.Baldwin, B.Coop, G. Heslop, B. King, F. Nash, D.Wilshaw, B.Pond, B.Flynn, T.Surridge, C.Nash O.B.E., D.Tracey, J.Wagg, R.Armstrong, M Maddox, J. Prince
---
Club Administration
Secretary - Derek Wilshaw
Club Secretary: Derek Wilshaw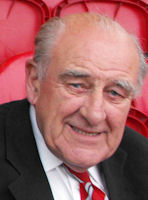 Derek Wilshaw was appointed the Club Secretary from 24 July, 2006, replacing Graham Heathcote in that position, which he had combined with managership of the club. Prior to his appointment as Club Secretary, Derek had for many years worked on a voluntary basis in the Moss Lane offices of the Football Club.
---
First Team Management
Manager -  Phil Parkinson
Assistant Manager -  Neil Sorvel
Head Coach - Chris Parkes
For more details see the

Club Management

page.
---
First Team Support Staff
Goalkeeping Coach: Ian Senior
Kitman - Steve Foster
Chief Scouts - Bob McClement and Bill East
---
Other Teams:
Reserves Team:
Ladies' Team:
Manager - Keith Edleston
Administration/Coach - Phil Taylor
Fitness Coach - John McManus
Coach - Dave Grundy
Youth U-18 Team:
Manager - Paul Fay
Coach -Adam Nuttall
Youth Education Programme Team:
Youth U-17 Team:
---
Medical & Rehabilitation Staff
Club Doctor - Dr Richard Parris
Sports Therapists - Tommy Uda, BSc.(Hons) Sports Therapy, and Ryan Murray, BSc.(Hons) Sports and Exercise Science, MSc. (Sports Therapy)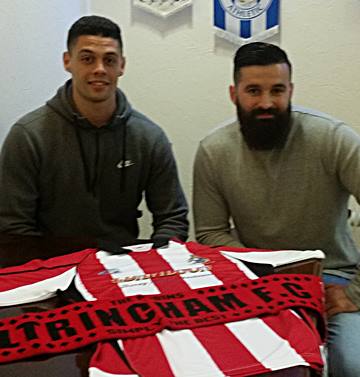 Above: Tommy Uda and Ryan Murray
---
---
Groundsman
Neil Brown was manager of Altrincham Reserves until summer 2007 when he resigned. He subsequently became manager at Leek Town and at Abbey Hey. Neil has also been coach and manager at successful local junior club, Fletcher Moss, for more than ten years and has been a scout for Liverpool FC.
Now he is the Moss Lane groundsman and he has done a superb job in making it one of the best surfaces in the Conference. Indeed, Manchester United Reserves now play at Moss Lane, with Neil's pitch being a major factor in that choice. Outside football, Neil is employed by Go Goodwins coaches.
---
Matchday Officers
Safety Officer - Nigel Bunce
Chief Stewards (joint) - Ian Cox and Keith Armstrong
Matchday Reception - Peter Lewis
Police Liasion Officer - Cliff Lea
Volunteer Coordinator - Roger Goodwin
---
Commercial & Corporate Officers
Commercial Manager - Noel Shield
PR & Promotions Manager: Peter Foster
Robins' Shop - Dave Thorpe, Ian Boardman, Campbell McLay
---
Community Team
Club Welfare Officers - Stuart Buchan, Karen Rowley`
Club Chaplain - Rev Andrew Barclay·Watts of LifeChurch, Sale.
---
Diversity & Inclusion
Head of Diversity & Inclusion - Jacqui Forster
Diversity and Inclusion Officer - Jordan Tyms
---
Supporters' Liaison Officers (joint)
Mike Reeves
Alison Corser
---
Community Sports Hall
Manager: Stacey Rowley
Community Coordinator: Judy Henson
Catering Team
Club Caterer - Bentley's Catering (Richie Bentley)
Assistant Catering Manager - Dawn Abbott
---
Media Team
Press and Media Officers - Brian Flynn and John Edwards
Alty TV - Mark Bennett
Photographer - Gavin Rathbone (of 

GR Photography

) and Mike Ripley of

Mike Ripley Photography

).
Programme Editors - Grahame and Terry Rowley
Radio Robins - Brian Flynn and a team of commentators
Social Media - Andrew Flynn
Tannoy Announcers - Steve Raftery, Andy Wilson, Ian Wilkinson
Website - John Laidlar