First Team Management
Manager - Jim Harvey
Assistant Manager -
Goalkeeping coach - Ian Senior
---
Manager: Matt Doughty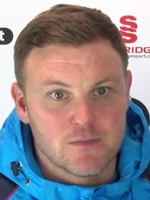 After Jim Harvey's contract as manager had been terminated on 6 December 2016, his assistant, and former Alty defender, Matt Doughty was appointed, initially as Caretaker Manager. He is assisted by former Alty captain Robbie Lawton and by former Alty manager and player, Graham Heathcote. On 2 January 2017 after some encouraging team performances, Matt was appointed manager until the end of the 2016-17 season.
Matt was a left-back for Altrincham from June 2008, when he signed from Halifax Town, having been with the Shaymen since July 2004, a club he had joined from Rochdale. He had previously also played for Chester City, for whom he signed professionally when just 16. Matt was a regular for Chester for two seasons (1999-2001) making 53(+17) League/Conference appearances for them.
In 2001, he had moved to Rochdale and had a trial with Southampton but a broken leg halted the prospects of a move to Hampshire. At Rochdale he made 93(+12) appearances in the League. Another broken leg sadly hampered the 5ft 8inch defender's career at The Shay but he still managed 119(+12) league appearances for the club.
Matt made his Alty league debut on 9 August 2008 and he became one of the team's most consistent players, as well as its penalty taker, but he sadly suffered cruciate ligament damage against Salisbury City in February 2010. This injury effectively ended his initial spell at Moss Lane. After leaving Altrincham, Matt joined Witton Albion before moving on, in March 2011, to Hyde.
In 2012/13, Matt was back at the Club and played regularly at left-back, as well as making some appearances on the left side of midfield, where his crossing ability was beneficial to the side. In 2013-14 Matt figured in most of the first 17 league games but, thereafter, made only sporadic appearances. A knee injury curtailed his involvement and, for the same reason, he elected to leave the club at the end of the 2013-14 season. He later enjoyed an FA Cup run (2014-15) with Warrington Town. Altrincham appearances: 137 (+18), 6 goals.
---
Assistant Manager: Robbie Lawton
Robbie Lawton, a former captain of Altrincham, (seen, right, in 2011), returned to the Club as assistant to Matt Doughty in December 2016 and his appointment till the end of the season was confirmed on 2 January 2017.
As a player, Robbie was a powerful and hardworking midfielder who occasionally also featured at right-back. He was signed in June 2006 from Vauxhall Motors, where he was the captain, and was also previously with Marine and Caernarfon Town. On arrival at Moss Lane, he immediately became a regular first-team starter, operating mostly on the right flank, before moving to centre-midfield during that initial season. Robbie first played as captain from mid-September 2006, a role he held more or less continuously from then till his departure.
By profession, he is Head of PE and a psychology teacher on Merseyside and one of the physically fittest players in the squad as well as a great ambassador for the club. Robbie completed a full century of starts in under two seasons with Alty but a pelvic problem necessitated an operation in August 2009, which kept him out of the side. He returned in mid-October before suffering further injury, which disrupted his 2010-11 season. However, Robbie re-established himself as a regular starter well before the season ended.
In 2011 pre-season he also proved his ability in the back-line of the defence as he looked forward to adding to his more than 200 appearances for Altrincham which, after Stuart Coburn, made him the club's longest-serving player. But, after being limited by injury and selection to nine appearances in the first 18 games of the season, Robbie decided to leave on 21 November 2011 following discussions with manager Lee Sinnott regarding his future. Off the field, Robbie was a great ambassador for the club and his "Captain's Log" articles in the matchday programme were a model of articulate and humorous writing about the ups and downs of a football club.
Robbie joined Marine in late 2011. Altrincham appearances: 217(+14), 9 goals.
---
Goalkeeping Coach: Ian Senior
Ian was appointed Coach at Altrincham FC on 1 June 2011, having been Goalkeeping Coach at the club for a number of seasons. Ian also has vast playing experience at non-League clubs in the North-West, with his playing career including spells with Altrincham. A retired fire-figher, Ian also runs a successful sports kit supply business, SK Kits, which provides the clothing merchandise to Altrincham and a host of other clubs.