If necessary, refresh to update...

---
---
ALTY HEADLINES
17 May 2017: SAM AND KYLE SIGN UP...More
17 May 2017: NEW SIGNINGS...More
17 May 2017: GET YOUR SEASON TICKETS!...More
OTHER HEADLINES
17 May 2017: JOIN THE PATRONS...More
17 May 2017: EVO-STIK LEAGUE SHAKE-UP IN 2018...More
17 May 2017: FARSLEY LOSE SECOND JOINT-MANAGER ...More
---
17 May 2017
17 May 2017
Karen Rowley writes that "On behalf of everyone at Altrincham Football Club I'd like to say a massive 'Thank you' to Jackie Campbell and all her staff at Faddies Dry Cleaners in Hale for all their help this season.
Faddies have kindly washed and prepared all the kit, tracksuits and towels for the Football Club throughout the season ensuring that the players have turned out in pristine condition.
Their service has been first class and we would recommend them to anyone looking for a quality dry cleaning company".
Faddies can be found at 20A Victoria Road, Hale, WA15 9AD (tel: 0161 928 7660) or via their website.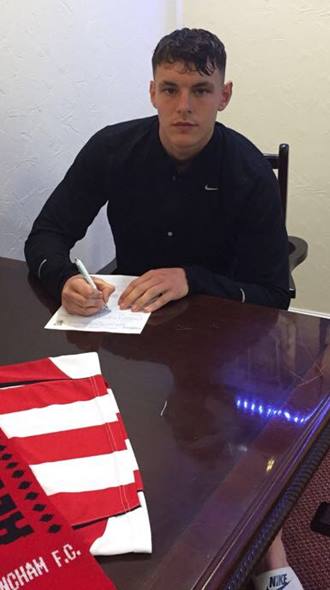 Sam Heathcote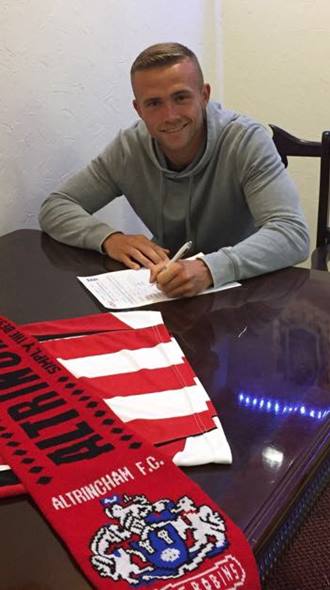 Kyle Brownhill
Altrincham's Press and Media Officer, John Edwards, writes "After a spectacular start to his recruitment drive, Altrincham manager Phil Parkinson has demonstrated there is room for local and homegrown talent in his squad by signing up Sam Heathcote and Kyle Brownhill for next season.
There has been widespread approval among Alty followers for the way Parkinson has significantly strengthened key areas of a new-look team for next season with the capture of Salford City pair John Johnston and James Poole and centre-back Ben Harrison from Nantwich.
Experienced campaigners Jake Moult and Simon Richman have also been signed up, and now Parkinson has turned his sights to the younger element of last season's squad by securing the services of central defender Heathcote and the versatile Brownhill for the new campaign.
Heathcote, 19, graduated through the youth and reserve sides, where he was converted into a centre-back after initially making his mark as a striker in the junior ranks at Manchester United. The son of Alty legend Graham, he made a remarkable debut for the first team on September 5, 2015, exactly one month after his 18th birthday, as he went on as an injury-time substitute against Cheltenham Town and scored the winning goal 90 seconds later.
After a loan spell at Hyde United, he became a regular in the first-team squad last season.
Locally-born Brownhill, who turned 22 just over a month ago, signed from Hyde last December and made a favourable impression in a defensive midfield role after starting out at left-back".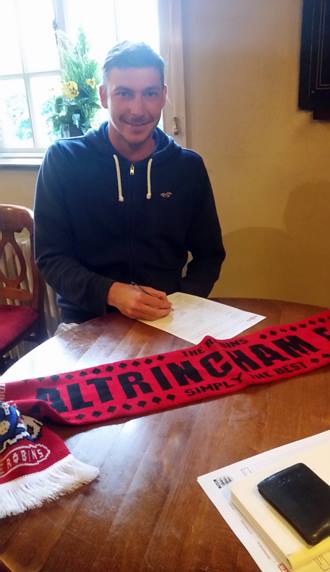 Ben Harrison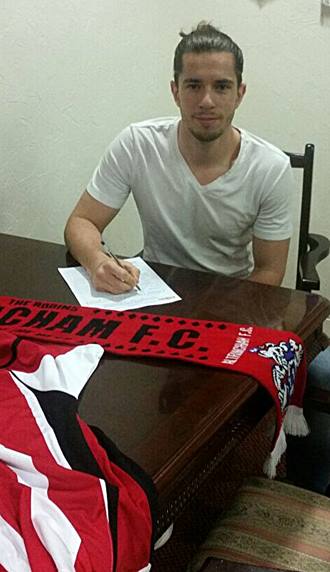 James Poole
Altrincham's Press and Media Officer John Edwards writes, "Altrincham manager Phil Parkinson has pulled off a major coup for next season by beating a host of clubs to the signature of James Poole and making the Salford City frontrunner one of three new arrivals in as many days.
The recently-appointed Alty boss has wasted no time stamping his mark on the club's fortunes by snapping up winger John Johnston from Salford and following up with the capture of Poole and Nantwich's cultured centre-back Ben Harrison.
Johnston has already outlined his eagerness to team up again with Parkinson, following a loan spell at Nantwich, while Harrison has been backed to become a firm favourite with Alty followers for his commanding presence and ability to bring the ball out of defence.
But it is the acquisition of Poole that is most likely to take the eye after the 27-year old one-time Manchester City Academy prospect spearheaded Salford's rise into the Vanarama National League North just over 12 months ago.
Describing how decisive action from Parkinson pointed him towards The J.Davidson Stadium, Poole told Alty's club website, 'The manager got in touch with me as soon as it was announced I was leaving Salford and made me feel really, really wanted here, and that went a long way towards making my mind up.
'He told me his plans for the club, what his expectations were, what he thought of me as a player and where I would fit into the overall team pattern, and to hear him say all that was really nice. It played a huge part in me becoming an Altrincham player.
'He seemed to know my game inside out, which a lot of managers at this level wouldn't have at their fingertips. He knew all my strengths and what formation would best suit my game, and he told me exactly how I would fit in and what he would expect of me.
'It wasn't a difficult decision, because his football philosophy is completely in line with mine. The confidence he has in himself as a manager, and in the way he sets his team up, was just as impressive. It was great to hear someone backing himself like he clearly does.
'It's fair to say my phone has been busy since the announcement about leaving Salford. Quite a few people have made enquiries, and there have been offers, but absolutely no-one showed the level of interest or desire to get me to their club as the Altrincham manager did.
'His vision for the club and the team and stressing how much he wanted me to be part of it was the reason I'm here now. It means the world to me to have that level of faith placed in me.
'I like to see myself as a proper footballer. Technique is probably a strength in my game. That and being creative, getting the best out of other players around me, particularly within the framework of a style of play that suits me. I had one season in the Evo-Stik with Salford, and we got promoted and had an FA Cup run, so the same again next season would do nicely.
'I'll be aiming for goals and assists, and I'm confident I can do that and contribute to a successful season for Altrincham.'
Poole was part of the City side that beat Chelsea to win the 2007-08 FA Youth Cup, and he went on to make nearly 100 appearances for Hartlepool before having a brief spell at Bury and joining Salford in September, 2015.
Warrington-born 26-year old Harrison underlined his growing reputation as a ball-playing centre-back with a remarkable solo goal in the FA Cup against Stourbridge last season, sidestepping two challenges before rifling a shot into the top corner. It was voted Nantwich's goal of the season and can be viewed on here
'Ben is a sought-after footballing centre-half, and we have fought off stiff opposition to bring him to Altrincham,' said Parkinson. 'I'm delighted he has chosen to join us, and I'm confident he will become a firm favourite with the fans. That goal against Stourbridge was something special, well worth a look. Our fans will love it, and I'm confident they will take to him in a big way.'"
"Altrincham's board have decided to make substantial cuts to admission prices for next season in the hope of encouraging supporters to turn out in numbers for a concerted push for promotion back to the Vanarama National League North.
In the wake of relegation to the Evo-Stik League, the club have announced significant savings for season ticket holders and those who pay at the gate and scrapped their policy of charging extra for a seat in the main stand. A flat rate will now apply, with season tickets costing £180 for adults, a reduction of 28 per cent on the current standing price and 38 per cent on seating, and £125 for students and concessions, a drop of 14 per cent and 19 per cent respectively.
There is a 17 per cent cut to £50 for 12-16 year olds, while the cost for under-11s has been halved at just £15. In keeping with most Evo-Stik top-flight teams, matchday entry for adults has been set at £10, a 28.5 per cent reduction, with concessions and students paying £7 (22 per cent less), 12-16 year olds £4 (20 per cent less) and under-11s £1 (50 per cent less). Additionally, there is an early bird scheme, offering a further £10 saving on any adult or student/concession season ticket bought by the end of May.
Explaining their stance, the club's directors jointly formulated a message, saying 'We felt it was important to give something back to supporters after all they have been through this season, whilst also encouraging them to keep turning out in numbers. Promotion is the aim next season, and a vibrant atmosphere at games can only increase the chances of it happening.
'There have been so many instances down the years of our crowd being like a 12th man out on the pitch, so it was imperative we set a price structure that would be seen as fair and would not deter people from attending. We have made reductions across the board that we hope will be welcomed by all and lead to a level of support conducive to making next season a success.
'Furthermore, at just £1 for under-11s, it is also hoped parents with young children will be encouraged to come along to sample the matchday experience at The J.Davidson Stadium and turn it into a family day out.'"
As usual, season tickets provide free entry to all of the pre-season friendly games at the J. Davidson Stadium. Also there is a £10 discount on adult and concessionary tickets purchased by 31 May 2017.
Altrincham FC is again running its Patrons' Club...
"Altrincham FC Patrons' Scheme thanks you for your support over the past season(s). Your support is much appreciated and, although we have had an extremely disappointing season, it is all the more important to continue your support as we look to build as competitive a budget as possible for next season. Thus we are looking for supporters to renew or join the Patrons' Scheme for the forthcoming 2017-18 season, the 12th season that it has been run.
For the cost of £50 your name will appear throughout the coming season in the matchday programme as a Patron of Altrincham Football Club.
At the beginning of the season, every member will be entered into a prize draw, with the winner being match sponsor for an appointed game along with 9 guests. Second prize will be hospitality for 5 people and third prize hospitality for 3 people in the Manchester Glass Sponsors' Lounge.
If you are interested in becoming a Patron for next season, please forward a cheque, payable to Altrincham Football Club, for £50. Alternatively, you can pay by card by phoning the office. If you require any further information please do not hesitate to enquire by e-mail
Thank you once again for your support – it's very much appreciated."
From Hereford,
Bulls' News
tells us that "The EVO-STIK League Southern is looking forward to playing its part in Non-League's brand new pyramid after the Football Association announced the results of the biggest shake-up to the structure of the grassroots game in more than a decade.
The EVO-STIK League Southern was chosen on Thursday to manage and run the new Step 3 division which is being created for the start of the 2018-19 season. This follows a long-awaited review of Steps 3 and 4 of the National League System to iron out geographical anomalies, cut down on travelling costs and time for fans, players and officials and encourage more Step 5 clubs to climb the pyramid. The first major restructuring of the game since 2004 will also see the creation of a new Step 4 division which will be run by the Isthmian League.
In total, the 276 clubs currently playing in Steps 1 to 4 [including Altrincham] will increase by 20 to 296 when the two new divisions kick-off in August 2018. Across the board, the reshuffle will see the three current Step 3 divisions of 24 clubs increase to four divisions of 22 clubs while the six Step 4 divisions currently run by the Northern Premier League, Isthmian League and Southern League will rise from 136 clubs playing in six divisions to seven 20 club divisions.
To achieve its aim, the FA also confirmed that only the bottom clubs in the current Step 3 divisions will be relegated at the end of season 2017-2018. In addition, only the clubs finishing last in the six divisions currently operating at Step 4 will be relegated next season with 26 clubs coming up from Step 5".
For 2017-18 the constitution of the Evo-Stik Northern Premier League Premier Division has been confirmed as Altrincham, Ashton United, Barwell, Buxton, Coalville Town, Farsley Celtic, Grantham Town, Halesowen Town, Hednesford Town,P) Lancaster City, Marine, Matlock Town, Mickleover Sports, Nantwich Town, Rushall Olympic, Shaw Lane AFC, Stafford Rangers, Stalybridge Celtic, Stourbridge, Sutton Coldfield Town, Warrington Town, Witton Albion, Whitby Town, Workington.
The Evo-Stik Northern Premier League First Division North will comprise, Atherton Collieries, Bamber Bridge, Brighouse Town, Clitheroe, Colne, Colwyn Bay, Droylsden, Frickley Athletic, Glossop North End, Hyde United, Kendal Town, Mossley, Ossett Albion, Ossett Town, Prescot Cables, Radcliffe Borough, Ramsbottom United, Scarborough Athletic, Skelmersdale United, South Shields, Tadcaster Albion, Trafford.
The Evo-Stik Northern Premier League First Division South consists of Alvechurch, Basford United, Bedworth United, Belper Town, Carlton Town, Chasetown, Cleethorpes Town, Corby Town, Gresley, Ilkeston, Kidsgrove Athletic, Leek Town Lincoln United, Loughborough Dynamo, Market Drayton Town, Newcastle Town, Peterborough Sports, Romulus, Sheffield Spalding United, Stamford and Stocksbridge Park Steels.
The constitution of these league will be formally ratified at the EvoSTik NPL AGM, to be held in Blackpool in June.
It was announced yesterday that John Deacey, one of the joint managers, had left at Farsley Celtic but now it has been confirmed that so, too, has the other manager, Neil Parsley. The announcement came in a "Further statement from club Chairman John Palmer. Following the decision by John and Neil to leave the club over the last couple of days, I would like to personally put on record my thanks to both of our departing managers... ohn has been fantastic over his two spells at the club, which culminated with a fantastic promotion campaign last year'
'I cannot thank Neil enough for his time here at Farsley Celtic. He came back as manager when we had to reform the club and he has been brilliant over these last seven seasons'".