If necessary, refresh to update...

---
---
For the FULL ALTRINCHAM FC WEBSITE AND ARCHIVE, go to the

Desktop site
ALTY HEADLINES
31 March 2017: "OLD BOY" DUNCAN SAVES THREE... More
31 March 2017: LADIES' CHANGE OF VENUE... More
31 March 2017: JOIN THE SPONSORED WALK!... More
OTHER HEADLINES
31 March 2017: SALFORD CITY MATCH ARRANGEMENTS... More
31 March 2017: VANARAMA NATIONAL LEAGUE NORTH NEWS... More
31 March 2017: ARMY GAMES... More
---
31 March 2017
Keith Edleston, manager of the Altrincham FC Ladies team writes that "Due to the Manchester Marathon going past our home ground at Mersey Valley Sports Club we have had to find an alternative venue for this coming Sunday's game against league leaders, Merseyrail Bootle.
We are grateful to Jane Morley, Stockport County LFC and Stockport Sports Village for accommodating us at such short notice. The game is a 2pm kick off on Pitch 1 (astro) and the clubhouse will be open from 12.30pm for refreshments. Why not come down and cheer the girls on towards three points?"
Altrincham travel to Salford City on Saturday. City play at Moor Lane,
M7 3PZ
. As previously announced it is not economic for TASC to run supporters' transport to a match so close to Altrincham. Bus service 93 (from Shudehill) and X41 and X43 (from Chorlton Street) are amongst  services running near the ground.
The Ammies advise that the game is not segregated but, owing to building works at the ground, there is no on site car parking. Supporters should enter the stadium via the Nevile Road turnstiles.
Admission prices are:
Adults £10
Concessionaries (over 60s, students with ID and under-16s) £3
As previously announced, Altrincham FC has organised a sponsored walk to our match against Salford City on 1 April.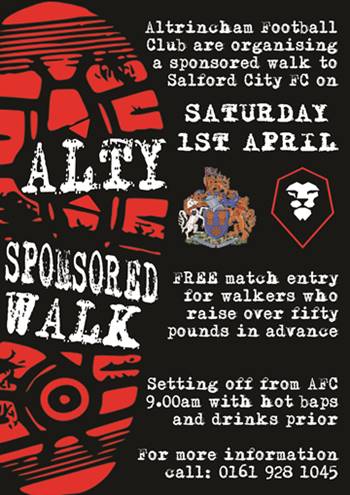 "In short, what is involved is...
A sponsored walk of 11 miles from AFC to Salford City on Saturday, 1st April.
The duration should be approx 3.5 hours, so we will be setting off around 9.30am for a 1.30pm arrival.
Hot baps and refreshments will be available at AFC from 9.00am (in the Vice-Presidents' Lounge).
Each walker who raises £50 prior to the walk gets free entry to the match".
Please join up by e-mail or, if you need a copy of the sponsorship form to be printed for you, please ring the Club on 0161 928-1045.
The
Chronicle Live
reports that ex-Alty and current "Sunderland star Duncan Watmore helped saved the lives of three holidaymakers while on holiday in the Caribbean. The England under-21 international was on a holiday with girlfriend Sophie last month and [they] were cruising on a speedboat off the coast of Barbados when they were hit by a speeding catamaran.
The impact of the collision sent the 23-year-old professional footballer overboard along with his partner and three elderly passengers. However, reports suggest that Duncan managed to grab all of the passengers before coastguards were able to rescue the group. And the heroic star also used his t-shirt to stop the bleeding to a severe cut on one of the passengers' leg.
One of those involved in the incident told The Sun, 'It was scary, life or death. I'm lucky not to be coming back in a box... Duncan helped everybody to get on to the boat, he couldn't have been nicer.'
The incident happened as Watmore enjoyed a holiday with partner Sophie in February. The Black Cats' winger is currently out injured after rupturing his ACL and will miss the rest of the season as a result. The holiday was reportedly the idea of Sunderland manager David Moyes who believed it would help the player's recovery.
Responding to the reports on Twitter, Duncan's father Ian, a former senior civil servant under three prime ministers including Tony Blair, wrote, 'Happened in February. Sounded horrific when he told us, but typical Duncan he wanted to downplay it.'
He told Sky Sports News HQ on Thursday, 'One had a hip replacement, one couldn't swim and the other was over 80. It was real life or death'".
The
National League
reports that on Wednesday "It was quite a night in the three representative matches involving players from the Vanarama National League's North and South against The Army. The games took place at Eastbourne Borough`s Priory Lane, Tamworth`s The Lamb and Harrogate Town`s CNG Stadium and produced no less than 30 goals in total – 28 of them to the sides representing the National League!
The 'tightest' encouter came at Tamworth, where the National League side won 7-2 with four goals in the second half...
Over at Harrogate, it was 4-0 at half-time with the home club`s Marcus Day bagging two along with youngster Olly Crankshaw and Tom Greaves. Crankshaw and Greaves added to their own personal tallies in the second half and Alex Bruton with two and Alex Simmons rounded off a 9-0 verdict for Simon Weaver`s side.
Down in Sussex, the National League outfit were in rampant mood, running in TWELVE goals without reply. Hemel Hempstead Town`s on-loan striker Charlie Sheringham and Eastbourne Borough`s Nat Pinney produced a master class in finishing; Sheringham scoring a double hat-trick and Pinney three".
Altrincham complete their league season next month at The Lamb from where the
Tamworth Herald
tells us that "Tamworth FC boss Andy Morrell says there will be no let up in his side's pursuit of a National League North play-off spot despite their hopes fading this week. A 2-1 defeat at Stockport County on Saturday has left the Lambs seven points shy of the top five with just six games to play.
They entertain Harrogate Town on Saturday and Morrell said, 'We won't be throwing in the towel... You just never know what can happen but I accept that we may have to win all six games now to stand any chance. There can be no downing tools though. Any player who has that attitude wouldn't play.'
With Ellis Deeney and Luke Jones the only players under contract for next season, Morrell says, as well as trying to maintain their diminishing play-off dream, the squad are also playing for their futures.
'There is still a lot to aim for,' he said. 'There are a lot of players who are out of contract this summer and, if they want to stay here, they need to perform well. We also have the 70-point mark to drive for. We can still achieve that and that has to be the target. If we can get to that mark, then we will see what happens with regards to the teams above us.'
Morrell has a fully fit squad to choose from... He said, 'We have deserved more than we have got recently. I thought we played well against Kidderminster on the Tuesday night and then for 70 minutes against Stockport County on Saturday. We have ended up with nothing to show for it'".