FOOTBALL TRIALS AT ALTRINCHAM FC, 5 May 2018.
Details

HERE
NEXT FIXTURES:
TBC: MARINE (Home) POSTPONED
Wed. 25 Apr 2018:CREWE (Home)
Sun. 29 Apr 2018: HESWALL (Away)
Sun. 29 Apr. 2018: WARRINGTON WOLVERINES (Away)
---
ALTY HEADLINES
OTHER HEADLINES
---
25 April 2018
It is hoped to reschedule the Altrincham v Marine match, postponed on Tuesday night, for today (Wednesday) at 7.45pm but that depends on league approval. Marine have the Liverpool County FA Senior Cup Final against Prescot Cables scheduled for Thursday.
Following the postponement of the Stalybridge Celtic v Workington game, the Reds still have three games to play this week.
Also following Tuesday's games, Ashton United have swapped places with Grantham Town and now lie third in the table. Shaw Lane came back from 2-0 down at Nantwich to win 3-2 and keep their play-off hopes alive.
"Altrincham FC's Patrons scheme has been relaunched ahead of the 2018/19 campaign in the National League North after the team gained immediate promotion back into the division.
"We made a big commitment to Phil Parkinson and Neil Sorvel in the 2017/18 season to ensure we could provide them with a competitive playing budget and they have duly produced the goods with automatic promotion. Our thoughts now immediately turn to next season as we continue to look forward.
'With Phil and Neil committed to the club with their recent new contracts, we are now striving to provide them with the best possible playing budget for the new season," said director Rob Esteva. "Subsequently, all monies raised via the Patrons Scheme will go directly on the squad to boost the playing budget for Phil and Neil."
'We already have the forecasts for next season and the playing budget mapped out thanks to Mike Adams's diligent planning but, now promotion has been confirmed, we want to top that figure up and give Parky and Sorvs the best possible chance to succeed in the National League North," he added.
'At the last board meeting, we agreed that any funds raised via the Patrons' Club would go directly to boosting that figure allocated to the playing budget.
'We've been working hard on retaining the management team and squad for next season as well as scouting potential new signings, and supporting the team via the Patrons' Scheme will only enhance our chances further.'
We are looking for supporters to renew or join the Patrons' Scheme for next season which will be the 13th season that it has run.
For the cost of £50 your name will appear throughout the coming season in the matchday programme and on the soon-to-be-launched new website as a Patron of Altrincham Football Club.
At the start of the season, every member will be entered into a prize draw, with the winner being match sponsor for an appointed game along with nine guests. Second prize will be hospitality for five people and third prize hospitality for three people in the Manchester Glass Sponsors' Lounge.
If you are interested in becoming a Patron for next season, please forward a cheque, payable to Altrincham Football Club, for £50. Alternatively, you can pay by card by phoning the office (0161 928-1045). If you require any further information please do not hesitate to enquire by e-mail."
Altrincham FC announces... "So that we can engage with the supporter base we are looking for their opinion on admission prices for next season. We have put together five options, as outlined below, please respond with your choice by
e-mail
or by notifying your choice to the Club office".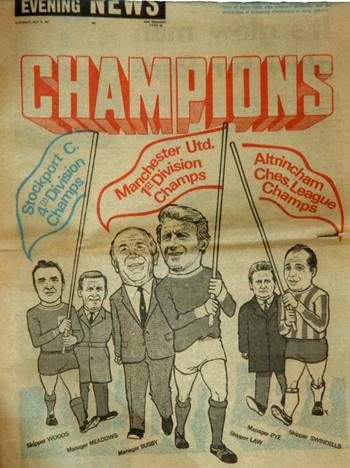 Although Altrincham clinched the EvoStik Northern Premier League championship on Saturday, Monday's Manchester Evening News had not a word about it. However, Terry Surridge reminds us that things were different back in 1967 when Alty, as champions of the Cheshire County League, were featured alongside two other local clubs on the front page of the Evening News, as shown in the adjacent image (courtesy of Terry Surridge).
The final day of the league season on Saturday sees Hednesford Town visit the J. Davidson Stadium. From the Midlands, the
Express & Star
reported on Tuesday that "Boss Rob Smith hopes his weary Hednesford Town side can dig deep to seal silverware over their old enemy. The Pitmen are not going into Tuesday's Staffordshire Senior Cup final against Stafford Rangers in the best of form.
They have played nine times in just over three weeks... and won just once, 2-0 against Stoke in the semi-finals of this Cup. Smith said, '"We have had that many games recently and, to be honest, it has absolutely killed us. It's shown in our results recently too. We've really struggled to get a team out at times and we've only got a small squad anyway. We've been running on empty a bit.
'We've managed to shuffle things around a bit more in the last few games and we've had one eye on this game for a while. I'm sure the lads will be full of adrenaline for this one and hopefully that will see us through.'
Smith won the competition in 2013, during his first spell in charge of the club... 'The games between us tend to be pretty close, very evenly-matched, and I don't see this one being any different,' said Smith. 'We have got a bit of experience in the squad, as well as youth, so they should be able to deal with the occasion, and rise to it.'
One player who could have a big say for Hednesford is striker Danny Glover. He recently passed 150 appearances for the club, and 50 goals. Winger Anthony Dwyer will be especially up for the clash too. Recently signed from AFC Telford United, the former Mansfield Town youngster had a spell with Rangers last campaign".
Monday 23 April 2018
Mickleover Sports 1-0 Stalybridge Celtic
Tuesday 24 April 2018
Altrincham P-P Marine
Barwell 1-1 Stourbridge
Grantham Town 0-0 Warrington Town
Lancaster City 1-1 Buxton
Matlock Town 1-2 Ashton United
Nantwich Town 2-3 Shaw Lane AFC (SLA were 2-0 down)
Stalybridge Celtic P-P Workington
Whitby Town 2-3 Rushall Olympic
Witton Albion 1-4 Farsley Celtic
Staffordshire Senior Cup 17-18 - Final
Stafford Rangers 3-2 Hednesford Town, at Stoke City
Wednesday 25 April 2018
PROVISIONAL Altrincham v Marine
Thursday 26 April 2018
Coalville Town v Workington
Hednesford Town v Rushall Olympic
Shaw Lane v Barwell
Stalybridge Celtic v Witton Albion
Stourbridge v Stafford Rangers
Liverpool County FA Senior Cup 17-18 - Final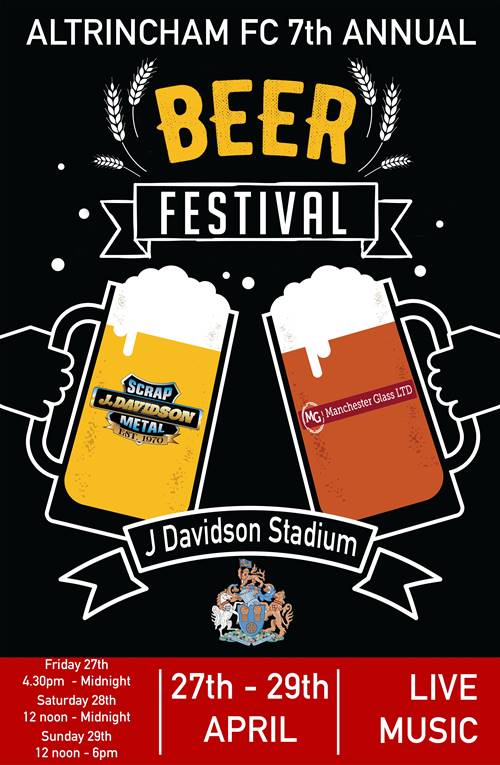 To make the Beer Festival a success, the Club needs volunteers to work on the Real Ale Bar. Available time-slots are:
Friday 4pm-12pm (three-hour shifts 4pm-6pm or 6pm to 9pm or 9pm to midnight)
Saturday 12 noon to 12 midnight ( 12 noon-3pm, or 3pm to 6pm or 6pm to 9pm or 9pm to midnight)
Sunday 12 noon to 6pm (12 noon to 3pm or 3pm to 6pm)
No experience necessary - on the job training provided!.
The
EvoStik League
confirms that "Steve Burr is preparing to leave Stalybridge Celtic on Saturday after taking charge of the club's final game of the 2017-18 EVO-STIK League season.
Appointed for the second time in February 2017, the former Southport and Chester manager's reign will end at Halesowen Town after officials at the club confirmed his contract was not being renewed on Tuesday.
According to a statement released by officials at Bower Fold... on Tuesday night... the decision to part company was a mutual one...
A statement on the club's website read, 'Chairman Rob Gorski would like to confirm that Steve's contract will not be renewed. It was an amicable and mutual decision and Steve will always be welcomed back at Bower Fold. He has his class and dignity as a man and we wish him every success in the future.'
Gorski added, 'We thank Steve for his efforts and hard work since February 2017. He leaves with our best wishes, and personally I have enjoyed working with a high quality manager. The club will appoint a new manager as soon as possible and no further comment will be made.'
Burr was unable to save Celtic from relegation from National League North after returning towards the end of last season but last weekend collected the EVO-STIK League's Premier Division 'Club of the Month' accolade for March, pictured, after turning around their fortunes this term after an up and down campaign to finally secure their top flight status.
As well as managing Celtic between 2007 and 2010, the 58-year-old former striker and England C assistant manager has also guided Nuneaton, Hucknall, Northwich Victoria and Kidderminster Harriers as well as Chester and Southport".
---